By Cynthia Hand, Brodi Ashton, and Jodi Meadows
5 out of 5 stars
Summary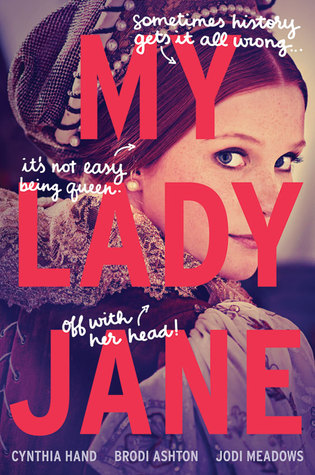 The comical, fantastical, romantical, (not) entirely true story of Lady Jane Grey. In My Lady Jane, coauthors Cynthia Hand, Brodi Ashton, and Jodi Meadows have created a one-of-a-kind fantasy in the tradition of The Princess Bride, featuring a reluctant king, an even more reluctant queen, a noble steed, and only a passing resemblance to actual history—because sometimes history needs a little help.
At sixteen, Lady Jane Grey is about to be married off to a stranger and caught up in a conspiracy to rob her cousin, King Edward, of his throne. But those trifling problems aren't for Jane to worry about. Jane is about to become the Queen of England.
Review
We are doing a group read in the Life & Lit Facebook book club with The Gentleman's Guide to Vice and Virtue and My Lady Jane. It had been a little while since I read this so I wanted to refresh myself with this wonderful book.
I love this book so much. The weird magic is hilarious, the narration made me pee myself laughing, the dialogue and inner monologue…everything just screams Monty Python in the best ways.
Your mother was a hamster and your father smelt of elderberries!