By Laini Taylor
5 out of 5 stars
Summary: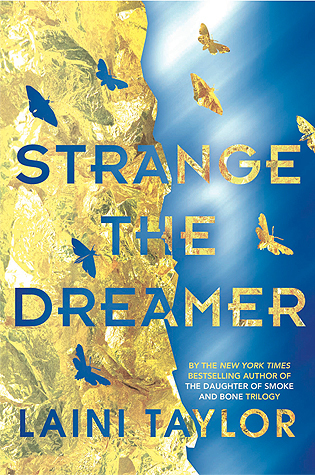 The dream chooses the dreamer, not the other way around—and Lazlo Strange, war orphan and junior librarian, has always feared that his dream chose poorly. Since he was five years old he's been obsessed with the mythic lost city of Weep, but it would take someone bolder than he to cross half the world in search of it. Then a stunning opportunity presents itself, in the person of a hero called the Godslayer and a band of legendary warriors, and he has to seize his chance or lose his dream forever.
What happened in Weep two hundred years ago to cut it off from the rest of the world? What exactly did the Godslayer slay that went by the name of god? And what is the mysterious problem he now seeks help in solving?
The answers await in Weep, but so do more mysteries—including the blue-skinned goddess who appears in Lazlo's dreams. How did he dream her before he knew she existed? And if all the gods are dead, why does she seem so real?
Review:
I went into this one completely blind. No reading of the summary but was hearing a lot of good things…consistently good things about this book.
Oh dear lord, this book made me feel! I may have had watery eyes and gasped for most of the last few chapters. This was such a weird and wonderful and beautifully written novel that I cannot wait to see the sequel for.
I thought Daughter of Smoke and Bone was okay but nothing special…that book PALES in comparison to this one. It's a thick book but it's so well written and the world building and character development and magic were fantastic. I didn't totally understand all the paranormal rules but that did not take away from it. The writing was so beautiful. I just kept zoning out while reading it…almost like it was a lullaby.