By Mackenzi Lee
5 out of 5 stars
Summary: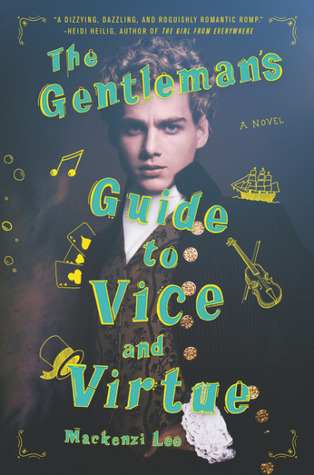 Henry "Monty" Montague was born and bred to be a gentleman, but he was never one to be tamed. The finest boarding schools in England and the constant disapproval of his father haven't been able to curb any of his roguish passions—not for gambling halls, late nights spent with a bottle of spirits, or waking up in the arms of women or men.
But as Monty embarks on his Grand Tour of Europe, his quest for a life filled with pleasure and vice is in danger of coming to an end. Not only does his father expect him to take over the family's estate upon his return, but Monty is also nursing an impossible crush on his best friend and traveling companion, Percy.
Still it isn't in Monty's nature to give up. Even with his younger sister, Felicity, in tow, he vows to make this yearlong escapade one last hedonistic hurrah and flirt with Percy from Paris to Rome. But when one of Monty's reckless decisions turns their trip abroad into a harrowing manhunt that spans across Europe, it calls into question everything he knows, including his relationship with the boy he adores.
Review:
Oh my heart!….Monty and Percy are so freaking adorable. They had some cute fluffy, a little slow burn, and real relationship problems.
I love Monty's sister and yet hate her. I don't necessarily like all her dialogue but I lived that she was a woman of science and constantly brought solutions to the problems.
I also find it amazing that pirates are constantly the liberals of every story!
I don't think it quite deserves the comparison to My Lady Jane though. both books are Wonder and I adore them but they have in common being a historical fiction and being a comedy. The narration is the comedy in My Lady Jane because of the ridiculousness. This book gets its comedy from the lead character mostly being so sarcastic and having relatively modern stances.
this book brings a romance that happens to be LGBTQ bi-racial (but it doesn't emphasize how amazing the LGBTQ bi-racial romance is) + travelling around Europe with some comedy while commenting on the ridiculousness of sexism, racism, homophobia (…plus some hypocrisy of those being sexism, racist and homophobic). A strong rebellious lady also makes an appearance but is by no means a focus of the story